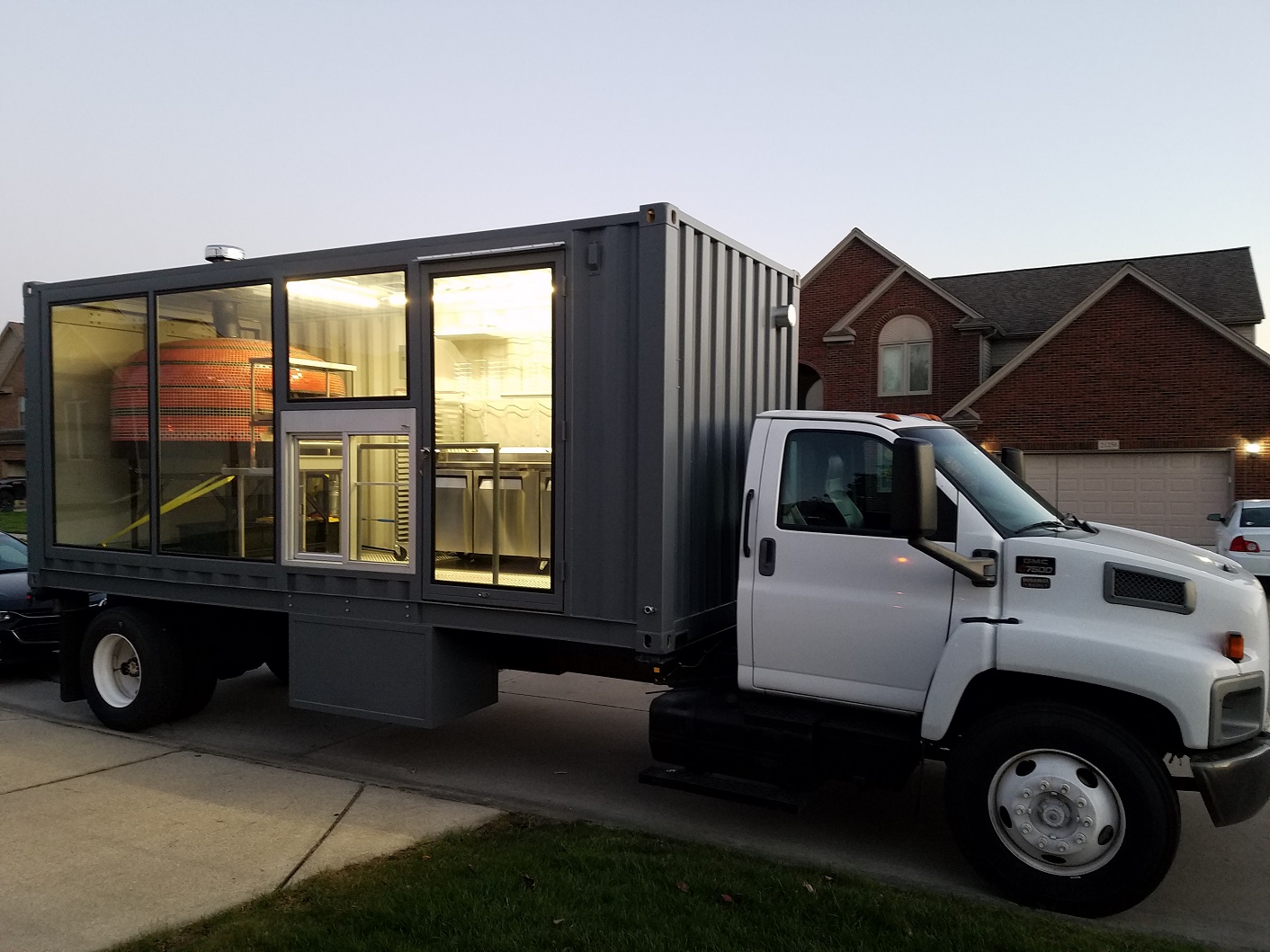 You'll be putting on a show while tossing up the dough with this 2006 GMC truck + 20′ Shipping Container turned wood-fired pizza kitchen!
Super cool concept. Kitchen installed [removed] has been fully inspected, certified and licensed through the State of Michigan through April 2020!
The heart of this operation is the Forno Bravo Napoli 140, with over [removed] square feet of cooking space, it can produce 200 10″ pizzas per hour! The exterior has been adorned with black and red ceramic tiles giving it a classic Neapolitan look. This massive wood-fired pizza oven is the only piece of cooking equipment you have to worry about! And it's easy! A brush down with a brass brush after cooking and wipe down the exterior and you're set for the next day! Comes with ALL pizza peels, utensils, and smallwares- truly turnkey.
Kitchen area is a single use (new shipped once from manuf.) 20'x8'x8′ shipping container and is in like-new condition. The modular design allows replacement of truck chassis without losing the certified kitchen! With only a few pieces of kitchen equipment on-board, your cleaning and maintenance is extremely low; and with 8kws of power in a kitchen that only pulls about 1500 watts, you have plenty of power available for upgrades.
Cab/Chassis is used but good condition. The power train moving this mobile kitchen is a 2006 GMC C7500 (GVWR 25999 – No CDL REQUIRED!!) w/ a Duramax diesel engine and Allison automatic transmission. With only 209k miles, it starts great and runs great!
This isn't your typical food truck and should not be treated as such. This is a heavy duty, solidly built, full-service Wood-Fired Pizza Truck with no expense spared. Countless hours went in to the design process, pre-fabrication engineering and actual build. Not only will you be receiving a turn-key mobile operation, but a complete commercial kitchen with top-of-the-line equipment is included.
Delivery details to be arranged with buyer.
CONTACT FOOD TRUCK OWNER: