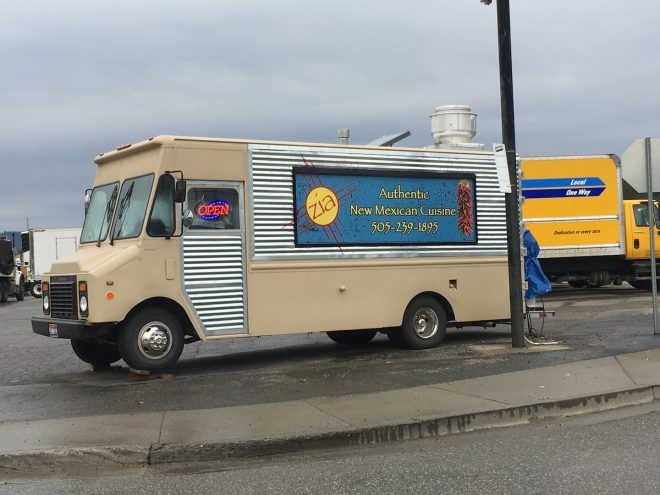 THE TRUCK;
1994 Chevrolet P-30 Grumman panel van.
Chevy 350 with RV pulling cam (less than 1000 mi. complete rebuild).
4L80E Automatic Transmission (less than 1000 mi. complete rebuild).
New tires, brakes, drums, shocks, u-joints, bearings, axel seals.
New marker lights, headlamps, blinkers, reflectors, and mirrors.
Integrated generator and duel propane tank rack.
Entire interior was framed with 1"x 1" square tubing, primed at install, and rigid insulation installed.
Entire Subfloor constructed with ¾" treated plywood and covered with 1/8" aluminum diamond plate.
Huge 4' X 10' built in sign on drivers side of truck.
Menu and service flaps with latches, locks, and gas charged flap openers.
New Rhino lined/corrugated metal exterior finish.
2 – 2'x2' gas charged ceiling skylight/roof hatches for light and heat release.
THE KITCHEN;
New 48" wide X 72" tall 4-door Ref. (glass doors) over Freezer (Stainless doors)
Stainless steel 96" Long X 40" wide True brand 4-drawer under the counter Refrigerator.
Stainless steel 24" wide True brand sandwich prep cooler.
Stainless steel 24" griddle, 6 burner, double oven, propane Radiance Commercial range.
Stainless steel floor propane deep fryer.
3 new counter top commercial water bath food warmers.
New Stainless steel microwave.
Full size 3 basin stainless steel commercial kitchen sink equipped with faucet/sprayer combo.
Stainless hand wash sink.
Stainless steel vegetable prep sink.
Suspended cash drawer location at order window.
Lots of overhead shelving for dry storage/food packaging/condiments/spices ect.
FIRE SUPRESSION SYSTEM;
Stainless Steel "Class 1" range/fryer hood complete with inspected and approved ventilation system and ANSUL fire suppression system.
Professionally installed, inspected, Fire Marshall approved Class 1 liquid fire suppression system including egress mounted manual activation station.
Fire Marshall approved fire extinguishers (1-pressurised water 1- chemical)
Fire Marshall inspected and approved placarding on entire truck.
ELECTRICAL SYSTEM;
125 amp main panel
50 amp RV main plug
30 amp adapter cord
Entire electrical system is wired in conduit, switched, breakers, GFI receptacles.
6 (12 plugs) interior auxiliary receptacles.
Entire lighting system is properly switched.
Entire lighting system equipped with low draw LED light fixtures.
Complete exterior lighting system, sign and under service flaps.
Exterior weatherproof receptacle.
12 volt interior lighting for illumination while mobile (dump, fill, loading, etc.)
12-volt exterior rear flood lamp for illumination while filling propane, connecting electrical, connecting or fueling generator.
PROPANE SYSTEM;
Equipped with 2- 25 gal. Inspected, tested, tagged, vertical tanks.
Dual tank plumbing to easily valve over from one tank to the other.
Correct propane pressure regulator, professionally flow tested and installed.
Fire Marshall inspected, approved, integrated ANSUL flow disruption valve.
WATER SYSTEM;
45 gallon Fresh water reservoir, equipped with RV filling station.
65 gallon Gray water reservoir equipped with RV gate dump valve, flex dump hose.
Both tank compartments insulated with 2" rigid insulation and equipped with thermostat tank heaters, and water line heaters to ensure system does not freeze. (we ran the truck for the entire 2018 winter in North Idaho without freezing up!)
Eco-temp in line tank-less water heater, for literally instantaneous and unlimited hot water.
12 volt heavy duty in line water pump with quick connect (unions on each side) for easy change out or repair.
Entire water system professionally plumbed with PEX plumbing system parts.
System is plumbed to run off the pump or valve over to run of city water pressure.
EXTRA EQUIPMENT INCLUDED;
Predator 8750 Watt Generator with less than 200 hours (not super quiet but it will run the whole truck, lights, hood, coolers, and Microwave no problemo!)
50' professionally constructed utility cord to connect to utility power source or generator.
Professional kitchen utensils, sandwich prep cooler food pans, True cooler sealed container trays, (too many to list).
Custom cutting boards strategically fit to turn entire sink area into food prep work space.
"A" frame sign, and 4 mobile NO Parking signs.
50 gallon mobile gray water tank with 120 volt pump to relieve gray water when on event location for multiple days and unable to move truck in and out.
50 gallon fresh water re-supply tank to accommodate scenario listed above.
Cash box,
CONTACT FOOD TRUCK OWNER: