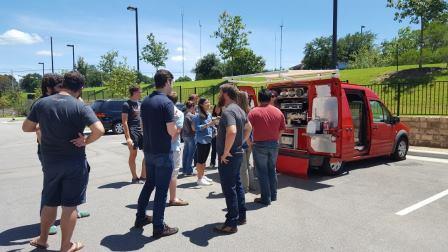 Fully Equipped Mobile Coffee Truck
This 2012 Ford Tansit Connect has been cleaned out and ready for a new roaming barista and ready to fulfill someone's new business dreams!
Check us out to see our existing operations  (we are only selling 1 of 3 truck and continuing to run 2) at [removed]
OR check out additional pictures and info about our truck for sale: [removed]
ASKING $38,900 US$ [removed]
"This unit is ready to use! Coffee Truck for Sale! In excellent condition and ready to make money and start your own mobile coffee shop!"
This 2012 Ford Tansit Connect has been cleaned out and ready for a new roaming barista and ready to fulfill someone's new business dreams!
We are only selling 1 out of 3 of our currently booked out trucks…
Search Wanderlust Coffee Truck Austin
We operate 2 other trucks that were built by the same custom builder and the same design and I will tell you that our other trucks that we have run for years now have almost never made us miss even a half of a day of sales because of a breakdown. I would dare say that this truck is one of the most agile, fuel efficient, and maintenance conscious food trucks on the road! (also a very very quiet generator compared to most) Built so smart that it only takes a single skilled barista to operate it!
Equipment:
-Truck only has around 33,000 miles runs perfect-needs nothing. Just passed state inspection.
-5500 Watt Cummins Onan Quiet generator (properly tied into the truck's tank-kills at 1/4 tank)
-2 Group UNIC twin Rumba 220v espresso machine (can keep up with almost any amount of customers)
-Quamar M80E grind on demand doserless timed espresso grinder (will change out for Mazzer if desired for the right price)
-True Glass door GDM commercial refrigerator
-Ariston 110v Water heater
-Red racing-style aluminum custom cabinets and deep drawers
-Custom welded and polished stainless steel countertops
-3 Compartment Moli concession sink and separate handwash sink all with pressurized hot and cold water.
-20+gallon water tank and approx. 33 gallon grey water tank
-knock box for spent espresso pucks
-Full electrical distribution panel -ALL GFCI BREAKERS-(1×30 amp 220v breaker 1×20 amp, 2×15 amp)
-automatic transfer switch that will change between generator and shore power
-Shore Power plug (25′ 50 AMP Marinco cordset-approx $225)
-San Jamar stainless encased 3 cup dispenser
-Steam Pitchers, mini shot pitchers, milk thermometer
Having a mobile truck is such a great launching pad to grow your brand because you get out and about in your community and make your brand known!
We have had great success with these trucks but just don't need a 3rd one right now
DAVE 224-595-7twotwo4
search [removed] (more pics)
More info on the coffee truck's generator:
This is not your normal run-of-the-mill generator you may see at home depot, it is the type they put in $300,000 motor-homes so that you can run it for days on end while sleeping with your head only feet from it under the floor of your RV.
The generator costs over $5,000 +custom installation.
The generator is designed/integrated into the van. It draws air in through the sliding door on the driver's side and expels the air out through the bottom of the truck (you may be able to see 2 little black vents on the lower half of the door in the pics).
The generator is permanently mounted, hard wired into an automatic transfer switch and into a GFI breaker panel with outlets run both 120v and 240v. (You can also plug this truck into shore power via a large 50amp receptacle on the outside of the back door)
The gas is fed to the generator through a Cummins onan brand pump drawing off the actual truck's factory gas tank. It was professionally tapped into so that the generator will "run out of gas" and shut dow when the truck's gas tank is at 1/4 tank. This way you don't strand yourself by running the truck dry from the generator usage; similar to how they do it in an RV for the same reason.
The generator is quiet enough that it is not a nuisance to your customers or other nearby activities. You can sit in the front seat and talk to your passenger without raising your voice even through the generator compartment is right behind you.
We currently run our trucks from 7AM-4PM while driving all over town and the generator stays on all day and we currently only consume an astoundingly small $14/day in gas TOTAL!!
Maintenance is super easy access with an insulated/sealed compartment door that opens just in front the the open slider door. All we have had to do is simple maintenance on these (nothing major even though the ones we have been using on a daily basis now have thousands of hours run time)
We operate year round and the generator has never shut down due to an overheat even in 105 degree heat! That proves that it was engineered properly.
The whole truck was built with this type of low ongoing cost in mind. We have been able to make good money selling out of this compact vehicle because we are not constantly fixing or throwing money at a high maintenance costs food truck like may other people I know in the industry have to do.
You may have seen some of our currently operated (red) trucks. There is almost no difference between them except for the color is white as well as some small modifications we have made over time (for example: the awning). THE RED TRUCKS ARE NOT THIS TRUCK that is for sale (this one is WHITE with RED cabinets)…The pictures of the RED TRUCKS are just to SHOW YOU WHAT YOU CAN DO WITH IT! I can be here as a resource to the buyer in the future on advice of how to best set up and run these truck…which events to do and which to avoid. Consider having me as a point of contact/advice an added value that buying from someone who is STILL in this business running this model and fully booked with 2 trucks rather than buying from someone who bailed out of the business. I am open to adding some of the upgrade features if we reach an acceptable price on the sale of the truck. The service that you and these trucks provide for your customers should make you an instant hit if you do it well! Hands on training may also be included for the right buyer upon pickup…
Trying to avoid selling in central Texas to avoid direct competition.
Call to inquire $38,500 OBO!!

CONTACT FOOD TRUCK OWNER: