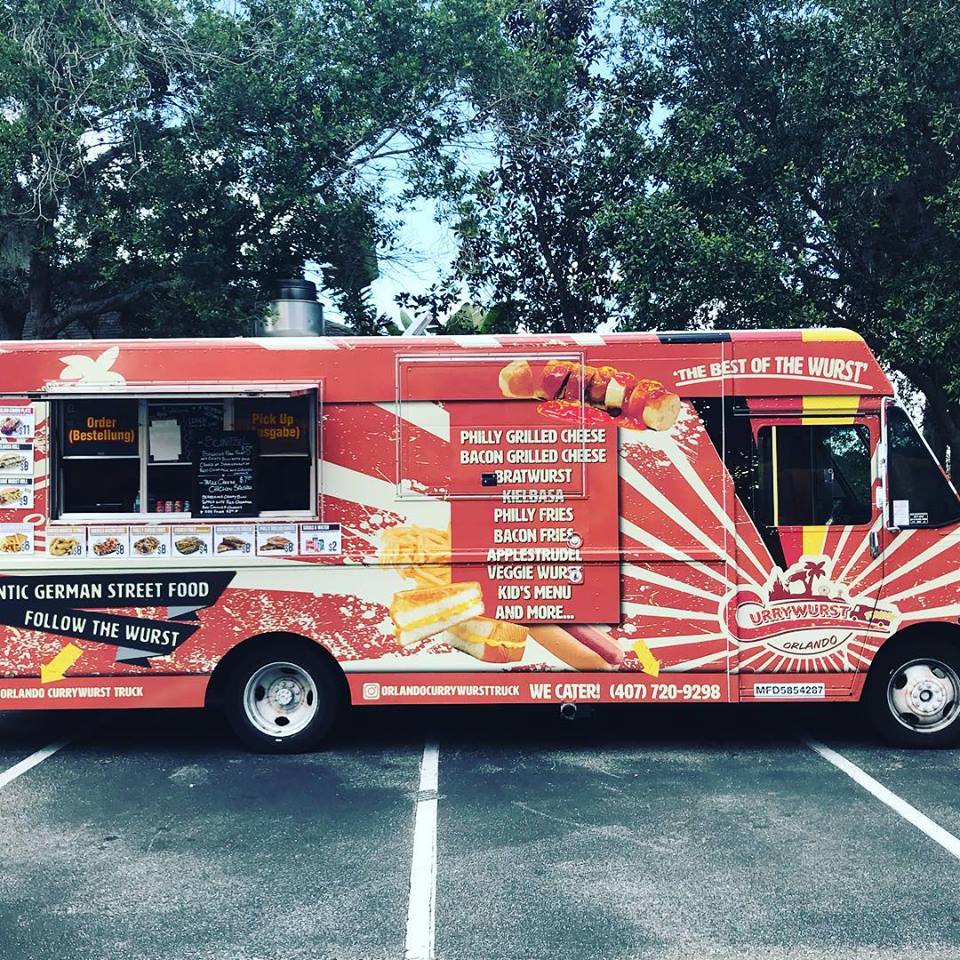 Turn key food truck!!
Why start your food truck business adventure from the ground?
Buy a thriving operating food truck business in Orlando, Florida. The Currywurst truck is a well established food truck in the Orlando food truck scene. We have invested plenty of money in upgrades on the truck to operate on the most professional level available.
All you have to do is step in and hit the ground running! We are constantly booked for both public and private events. You could start earning money immediately! When you purchase our business, you'll already be booked for events. You will receive a list of locations with contacts where we normally operate, eliminating you having to figure everything out on your own and at your expense.
Don't waste your time and money on trying to figure out the logistics, where you can park, where you can't park, who to work with, who not to work with, and how to get into events. This knowledge could save you THOUSANDS of dollars.
The Currywurst truck is fully licensed and certified! We have the proper fire systems in place and all of the required licenses.
We are offering 1 week training with the sale. Combined, we have over 25 years experience in the restaurant industry and over 4 years owning and operating the Currywurst truck.
You will learn our insider secrets, how to eliminate food waste making your profits higher, our recipes and how to prepare them, our catering menus that make for the most efficient service and higher volume for bigger sales.
We park the truck in Winter Garden, right at 408 and Turnpike, very ideal for the traveled food truck. The food truck is parked INSIDE a locked storage place. This location has a place for fryer waste, water,and electric hookups for the most reasonable price.
You can open up for sales on Disney property(very lucrative), City Soccer games, concerts, corporate lunches, schools and any other special events. We are very happy with our business and the income it provides. We are wishing to move on to other things and hoping to find someone who is passionate about the industry and looking to start their own business:
We are also selling just the Food Truck !!
Truck: Chevrolet Grumman P30 1995 (Diesel)
Generator: Cummins Onan LP QG Model No: [removed] HGJAE – 2145K 30h on the generator!!!!!!!
Equipment:
Steam table: Eagle group three pan liquid propane steam table open well
Fire suppression system: Ansul R-102 RESTAURANT FIRE SUPPRESSION SYSTEM plus two mandatory fire extinguisher
Fridge: Kool it 13 cubic feet of storage capacity, runs off standard 120V electricity and draws only [removed] Amps
Three compartment sink: Stainless steel three compartment sink (NFS approved) plus Bosch water heater and stainless steel hand wash sink
Prep table fridge: Arctic Air AST48R 48″ prep refrigerator, full stainless steel front and sides, 120V, Capacity: 12 cu. ft.
Hood fan system: Larkin professional heavy duty grease hood plus Centrifugal Up blast Exhaust Fan.
Flat top grill: Commercial liquid propane four burner counter top grill (size:
2 Fryer: Pitco 4 tube stainless steel floor fryer liquid propane …
CONTACT FOOD TRUCK OWNER: